Star Guardians by Evoplay
Star Guardians is a whole new type of gaming experience. An industry first, this third-person shooter gives you manual control of your character.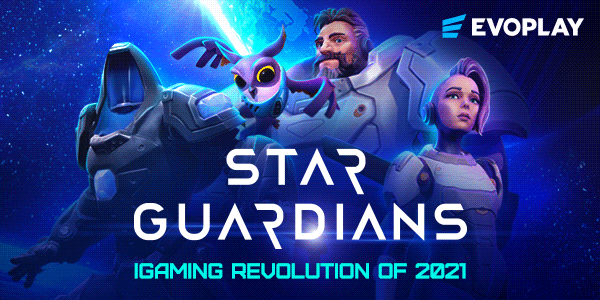 There are three characters to choose from and each has their own skills and abilities.
Blast your way through the aliens and beat their Queen!
You can play a demo of Star Guardians here!
Game type:
Third-person shooter video slot
Go-live date (expected):
Already live!
Game special features:
– Bonus game (The Battle with the Queen)
Players have the chance to defeat the Queen and receive a reward of x100 up to x5,000 of their bet.

– Random events
Locked chest with random huge reward or hero amplifier.
Unlocked chest with random small reward, hero amplifier or the locked chest's key.

– Three heroes with different amplifiers
Players can choose any of the three heroes at any time in the main game.

– Amplifiers for Heroes for next seven spins
1. Butcher's Amplifier: x2 win multiplier
2. Skyler's Amplifier: can open locked chest without the key
3. Keliot's Amplifier: guaranteed to receive reward for the enemy

– Manual mode
Players can control the character and shoot enemies using the keyboard and mouse on a PC, or a joystick on mobile, just like in shooter games.

Number of paylines:
No paylines. Winnings are calculated when you defeat the enemy. Each enemy has its own minimum and maximum winning coefficient.
Number of reels:
Every spin guarantees the appearance of three enemies, which can give a reward to the player.
RTP% (recorded/theoretical):
96.00%
Variance/volatility:
Low/high
Number of symbols to trigger feature/bonus?
The bonus game is a random event that can be activated during any spin in the main game.
Can feature be retriggered?
Bonus game cannot be retriggered.
Amplifiers for hero can be retriggered.
Number of free spins awarded?
N/A
Stacked or expanding wilds in normal play?
N/A
Stacked or expanding wilds in feature play?
N/A
Number of jackpot tiers?
N/A
Auto-play function?
Yes
https://youtube.com/watch?v=0o5gTvcUg18%3Ffeature%3Doembed
Source: Read Full Article