Pretoria punter wins R1.5 million in Sun International gaming extravaganza
Fired-up Pretoria native Zain Marais crushed the hopes of 59 rivals en route to becoming the 2022 Black Pearl champion, as the high-voltage roulette tournament raised the roof of Gqeberha's Boardwalk Casino, hotel and convention centre on Saturday.
Marais, a long-time patron of Sun International's Time Square casino east of Pretoria, said he had a hunch early on that he would go all the way. "It's an amazing feeling! I felt like it would happen, and I am glad it did. Evidently, I know what I'm doing at the roulette wheel. Thanks to Sun International and Boardwalk for a fantastic weekend. Sun always takes good care of us," said the ecstatic father of four, who intends to spoil his family with his winnings. Marais added that he wouldn't be sharing any secrets of his success as he hoped to defend his title in 2023.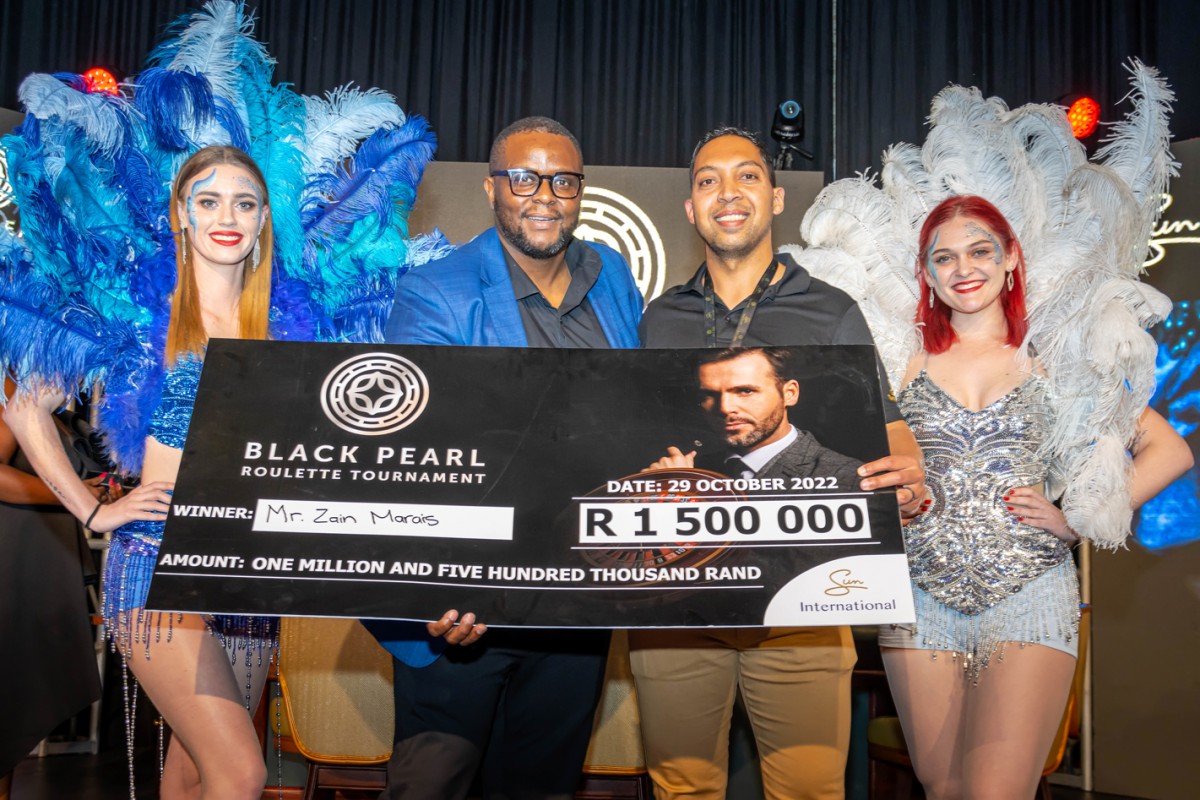 Image: Black Pearl winner Zain Marais (right) gets his cheque from Boardwalk General Manager Tati Tsunke 
More than 2 500 members of Sun International's Sun MVG loyalty programme from 11 of the company's hotels and resorts around the country and online betting arm SunBet signed up to compete in the Black Pearl. Competitors began racking up points in qualifying rounds in a bid to make the grand finale as far back as August. A total of R2.5 million in prize money was on the line, including varying payouts for the three other participants in the grand finale and bonus draws.
"Black Pearl has been explosive, exciting and exhilarating. For the first time, we have had SunBet online players join us with a bonus spin draw to add to the thrill. These nationwide tournaments allow us to showcase our properties and position Sun International as the leading house of gaming. Our finalists have thoroughly enjoyed themselves in Gqeberha, with many using the opportunity for a family getaway," said Sun International Loyalty Programme Manager Liza Adrianzen.
A staple of Sun International's gaming offering, nationwide tournaments like the Black Pearl – the baccarat-based Black Opal and Slots Royale competitions – allow the hospitality giant to showcase its hotels and resorts, offer exclusive guest experiences and open up new gaming opportunities for eager punters. Sun International casinos offer a comprehensive range of table games and slot machines, but roulette, whether by virtue of its simplicity or gaming superstition, remains by far the most popular activity – at Sun International and the broader casino industry.
The Bay's Playground, Boardwalk, played host to the final of a Sun International tournament for the first time. The property treated finalists to a marine-themed welcome marked by nautical music, dance and performers that began at the city's airport and continued through a glamorous cocktail function on Friday, intense 13-spin heats in the casino and on to the final four at the glittering grand finale. The Boardwalk precinct encompasses the R500-million Boardwalk Mall, world-class conferencing facilities, a recently refurbished casino and the luxury Boardwalk Hotel.
"Nationwide tournaments like the Black Pearl allow Sun International to bring all our big players together and offer an exclusive experience for our guests. Besides the prize money on offer, there's so much for the finalists to enjoy, including all Boardwalk's recreation and retail opportunities, luxury accommodation and tourist attractions in the region," explained Boardwalk General Manager Tati Tsunke.
Sun International Gaming Relationship Manager Rob Dalton promises much more to come for Sun International MVGs. "We're going to do many more tournaments. The prize money is a lot higher now; there isn't a buy-in, and you can win a lot of money quickly. Our finalists are celebrities here on stage, which makes these tournaments so special," he said.
Source: Read Full Article