Entain Reports Positive Q3 Results
International betting and gaming operator Entain has published its Q3 trading update, reporting positive retail and online performances in line with expectations. Net gaming revenue was up 2%, with the operator projecting its full year revenue to come in at $1.3 billion. The group also recorded a surge in popularity for betting on Formula 1 racing.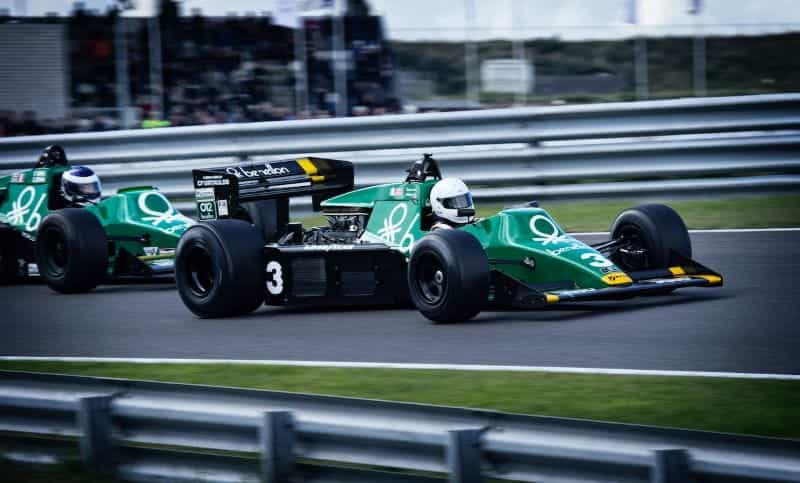 The group recorded positive growth across the board during the third quarter, as well as a rise in the number of customers betting on Formula 1. ©Chris Peeters/Pexels
Momentum Continues
Entain has released its Q3 trading update, showing continued momentum across its international operations. Results dating from July 1st to September 30th 2022 were positive overall, as the group recorded a 2% uptick in its net gaming revenue. This was driven by a 6% year-on-year rise in active customers, to record levels.
The operator's online business fared well with modest growth of 1%, excluding the Netherlands where operations have been forced to pause temporarily due to licensing restrictions. Excluding the impact of Dutch regulations, Entain's revenue for the third quarter would have grown by 4%.
The acquisition of BetCity, which is expected to be completed in Q4, will secure the group's position in the Dutch gaming market. It also plans to finalize its purchase of Croatian brand SuperSport next quarter. Alongside the creation of Entain CEE, these will offer significant support to the group's growth and diversification strategy.
In the UK, Ladbrokes and Coral continued their post-pandemic recovery with retail growing 10%. This marks an 8% increase on pre-pandemic figures. Across the pond, BetMGM continued its strong performance, recording a 25% US market share in each state bar New York. The operator also recorded a 31% market share in the US igaming market.
A successful start to the NFL season has driven Q3 NGR of over $400 million. This marked a 90% rise on last year's figures, with same-state revenues up 50% on last year. Entain is optimistic that this momentum is set to continue into next quarter, thanks to the World Cup. It projects EBITDA growth of 5-10%, from £925 million to £975 million.
Retail Skyrockets
In its full year outlook, Entain predicted further momentum and online growth. Its year-to-date performance saw the group's overall online revenue rise by 5%, with sports betting increasing by 4% and igaming by 6%. The most significant growth was seen in retail, which rose by 102% over the last three quarters. In total, the last nine months saw the group's revenue rise by 12%.
Overall, Entain predicts that it is on target to achieve a full year revenue of more than $1.3 billion. Alongside its financial results, the group is confident that it will reach sustainable positive EBITDA in 2023 and progress is continuing across its Sustainability Charter. Entain's achievements were formally recognized as it was awarded SBC's Global Socially Responsible Operator of the Year for 2022.
CEO of Entain, Jette Nygaard-Andersen, was pleased to reveal the group's great performance so far this year. Commenting on the trading update, she noted the headway that BetMGM has made in the US and the influx of new customers to Entain's brands around the world. Nygaard-Andersen added:
"We have healthy momentum across the business and look forward to a strong finish to the year which includes the World Cup.Looking ahead, we remain vigilant of the economic backdrop. However, our diversified revenue base and robust business model enable us to remain confident in our ability to deliver on our growth and sustainability strategy."
Entain is one of the world's leading betting and gaming operators, holding licenses in more than eighteen countries. The Ise of Man headquartered business employs over 2,800 staff across Europe, Asia, North and South America, and Oceania. Entain is one of only two gambling operators to be a constituent of the FTSE 100, the other firm being rival Flutter Entertainment.
While the name Entain may not be familiar to many punters, it is responsible for many of the most popular betting and casino brands online. Household names including Coral, Ladbrokes, PartyPoker, Foxy Bingo and bwin all fall under the Entain umbrella.
Formula 1 Grows in Popularity
The good news didn't stop there, as Entain also revealed a huge rise in the popularity of betting on Formula 1. Newly published data showed a record-breaking rise, as the number of Entain customers betting on the competition rose by 50% from 2018 to 2021. The total number of bets on each season has grown by 30%.
Betting on Formula 1 proved most popular amongst Entain's UK customers, who were responsible for 35% of the wagers placed. This was followed by Brazil and Germany each accounting for 17% shares of the bets and Spain responsible for 5%.
Entain witnessed the number of UK customers betting on Formula 1 increase by 18% from 2021 to 2022, with four races remaining in the 2022 season. The British Grand Prix proved particularly popular, as bets on it increased by 121% compared with 2018. There has also been four-fold increase in the number of bets on a winner at the race.
According to the operator, this trend mirrors the rising interest in the sport across streaming and multimedia platforms. Formula 1 stated that it was the fastest growing major sports league in terms of follower growth in 2021. Social media followers rose 40% to 49.1 billion, while video views were up 50% to 7 billion.
Formula 1's total engagement is up 74% to 1.5 billion. Dom Grounsell, Chief Commercial Officer at Entain, spoke about the group's findings. He referred to the success of the Netflix series "Formula 1 Drive to Survive" as one factor influencing the trend. Grounsell also took the opportunity to highlight the ways in which Entain is committed to protecting its bettors from harm, stating:
"Whilst the marked rise in popularity of motor racing is exciting for Entain, the interactive entertainment group works hard to ensure its customers are enjoying the thrill of the race while staying safe and playing within their limits. Entain's industry-leading player protection programme, Advanced Responsibility and Care™, uses artificial intelligence to anticipate and identify potential problems and lead players back to safety."
Source: Read Full Article